About us
A Wine Bar For
The Curious Explorer
We are a wine forward restaurant where you can relax and reconnect as you discover great wines from around the world. We invite the adventurous and curious to explore an array of wines by taste, half glass, full glass or bottle. Our wine is self-pour from our Italian made Enomatic exact pour systems. We are a full serve restaurant.  Our warm, knowledgeable team is always ready to offer recommendations, share their insights and favorites with you and help pair our wonderful food with our wonderful wines . Savor amazing wines and delicious charcuterie boards  and experience the culture of the world's greatest places in the most enjoyable way — through their incredible food and drink. We offer a full bar and over 16 craft cocktails.  Come let us show you our warm Southern hospitality. 
BIO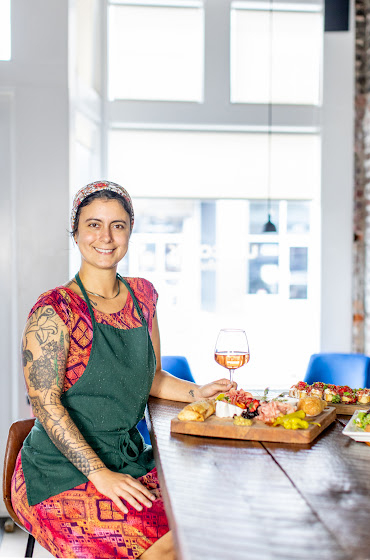 Natasha Cline
Head of Operations
A Virginia native and first generation American, Natasha Cline came to South Carolina when she was in high school and has considered the Lowcountry home ever since. Her love for the hospitality industry began while she was growing up working in her stepfather's pizza parlor. After successfully running Downtown Charleston's Five Loaves Cafe for five years, this love has since taken her to places such as San Francisco, Portland OR, and eventually back here to Uncork Charleston.
Natasha derived her cooking style from spending time from a young age in her European mother's kitchen. The dishes she creates are heavily influenced by her mother's German and Italian roots with a South American Flare inspired by her father's Chilean heritage.
Her goals for Uncork are to continue growing the restaurant with creative dishes, great ambiance and a Charleston place that can truly be considered one of Southern hospitality. Her dream is to eventually open a restaurant in honor of her mother using the tools she gave Natasha to succeed both in and out of the kitchen.
Joseph Reardon
General Manager
Joseph started his career as a correctional officer with the South Carolina Department of Corrections (SCDC) where he worked for almost 20 years.
While bartending at local events around Charleston to help pay for his daughter's competitive cheerleading program, his passion for the food and beverage industry was born. He then started to bartend at concerts and sporting events at the North Charleston Coliseum.
In August of 2019 with his career at SCDC in the rear view mirror, he joined Uncork as bartender/server. In February of 2021 he was promoted to general manager.
His dedication to his job and utmost respect for his guests serve as a mark of true southern hospitality.
Born in Long Island, New York and raised in South Carolina, Joseph has been married for 19 years and has two teenage daughters.